Thomas Fawcett & Sons Ltd is a seventh generation family business that has been manufacturing quality malts for over 200 years on its original site in Castleford, West Yorkshire. The Company's production facilities span its history from four working floor maltings to the most up to date Germinating & Kilning Vessels (GKV). Coloured malts of all hues and flavours are produced from its bespoke roasting plants. Batch sizes remain small to ensure consistent quality throughout an extensive product range. The Company manufactures over 30 different malts on site and can supply small quantities of other key brewing adjuncts, Peated Malt, Smoked Malt, Torrefied Wheat, Flaked Maize and Flaked Barley.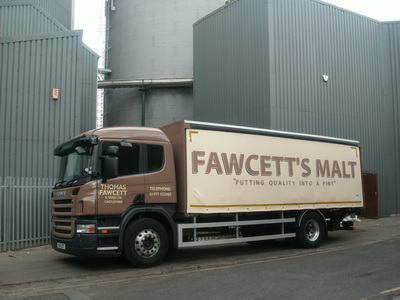 The finest barleys make the finest malts and the Company strives to procure the best barley samples from each Season to maintain standards. Ale Malts are largely made from the iconic barley varieties, Maris Otter and Golden Promise though not exclusively. Proven winter varieties such as Halcyon and Pearl are still available and the current main spring variety is Propino. The Company malts Wheat, Rye & Oats to offer the full range of vital ingredients from which brewers can devise interesting, innovative and delicious beers.

We asked Fawcetts why they choose to partner with us and this is what they said…
The reason we are delighted to work with Loughran Brewing Stores is because they have a passion for quality which we share. Their enthusiasm and personal experience of our products gives us the confidence and trust to do a great job sharing our brand with those most interested in brewing fabulous beer.
Simply fill out our new customer form or contact us…